September 2012 Newsletter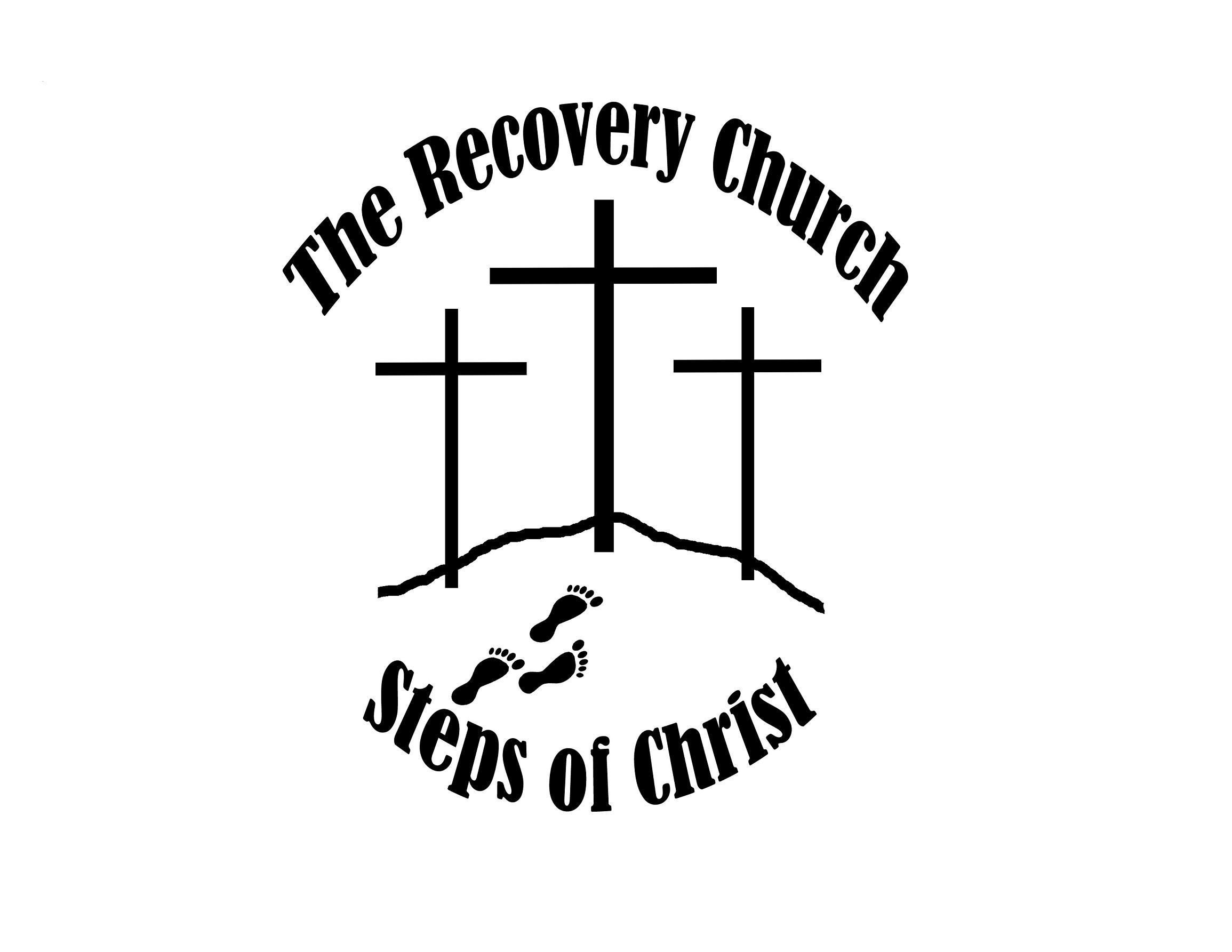 September Newsletter
Jubilee 2012
This month's feature story is to highlight the Jubilee and talk about the great men and women we Labor with in this exciting work God has set before us. Sharon Cain of drug court, Joe Norton and the entire parole staff, Sheriff McKinney and his team of people like F.L. Estes, Jim McNair, Dave Horn and Dave's jail staff, Lawson Guthrie of Task Force and DA's office. Once in my life I despised some of these men and all of these offices. Funny how God works things out! He used all these men and offices to radically change my life FOREVER. What God is continuing to do in our community can only be describe as miraculous. This year's Jubilee is once again honoring God by honoring our local government for teaming with us in this common Kingdom cause of protecting our community from this evil world of drugs, gangs, etc., and working together with recovery ministries to transform the lives of those souls coming out of this dark and sick world. We will offer to the Lord over 100 lives like me that God has drastically transformed the last couple years. This is our third annual Jubilee and these jubilees are expensive to put on. We are purchasing food for 1200 and have 100 Tee Shirts purchased so far. In the past many of you have help with expenses and some businesses have donated your services. We have raised about half the money so far, anything over will go toward the continued expenses of recovery ministry. Also we are seeking to raise $100,000.00 to purchase the Castle Home/Future Recovery ministry of Duncan. It's 8,000 sq. ft and has 26 acres of land with two ponds. This is very do-able and many of you have indicated your support. Now is the time! We will have open house tours the afternoon of the Jubilee at 5:30. Property is located at 2010 N 5
th
street between Elk and Plato on east side of 5
th
street.
 ——————————————————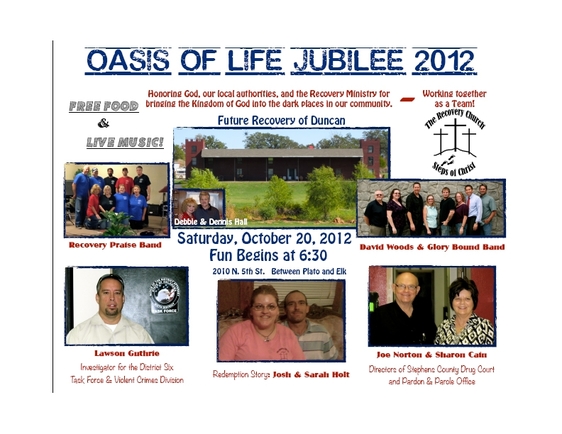 ——————————————————————
"Pre-Jubilee Cookout"
This Saturday, September 15th 6:30 PM at The Recovery Church 3023 N 81 Highway north of Sears. Everyone invited we will have great food, live music by different praise teams and individuals. If you have talent come and bring your musical instruments. Great fun and fellowship. Invite friends and come on out!
First Recovery Home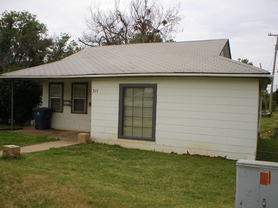 The Recovery Church recently purchased its first home for men who are coming out of prison, jail, or just homeless needing a hand up, not hand out, in life. We have been responsible for helping many men & women coming out of prison, jail, drug court, or bad environment's with jobs, housing, hope, and a future with purpose. Some of these have children and that's the purpose for the Castle Home and the upcoming Jubilee, see flyer for details. The home will be a three to six month stay allowing time to find jobs and get ahead so they can move into permanent housing. Lynn & Sandy Parr of Parr Real Estate manage a lot of rental properties and they have helped us tremendously by assisting dozens of men, women, and families in housing the past couple of years. Their a phenomenal blessing to our community by helping folks get established after coming out of a hellish life, most due to their own BAD choices, but some are just unfortunate circumstances. We are the Church of second chances for those serious about change and this house is just the beginning of what God is going to do in our community through The Recovery Church, next the Castle Home for families see Jubilee story. We are excited about this move of God in our community!
Jacky Mangum owner of Mangum Automotive & the Chateau 3015 Restaurant is another business man teaming with us in this work of God. He has employed dozens of men & women and it is continuing to work out wonderfully. God blesses those who bless this work according to Genesis 12: 1-6. We are grateful to Jacky and to the many other businesses, you know who you are, who are a part of this work and have dedicated their business to the work of the Lord. God says in 1 Samuel 2:30, "Therefore the LORD God of Israel says….for those who honor Me I will honor, and those who despiseMe shall be lightly esteemed.
Installing Sign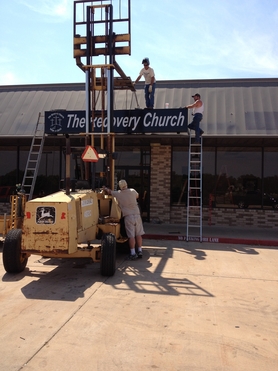 We owe a great deal of gratitude and appreciation to Scott Powell, Phillip England, and Josh Holt, for enduring the 110 degrees heat on their day off to get our new sign installed. The old man working the fork life is Wayne Graham. He and Lynn Parr thought we needed some bosses. I'm not sure we would have gotten it done without them, right guys? Thanks men it looks great! The three working men are about to finish 2 years of drug court and have become a major part of our family and God's Kingdom. Just three more success stories of what God is doing in our community through the team work of local government, (drug court, parole office, sheriff dept./jails, district attorney's office/task force) and The Recovery Church/ Recovery Ministries of Duncan.
They Conquered
New Sign and Sanctuary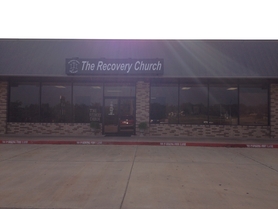 .
————————————————————————————————————————————
 WEEKLY CALENDAR
Tuesday at 7 PM & Sunday at 10:30 AM & 6 PM: Regular Church Services.
Come feel the Love of Jesus be refreshed, encouraged, and strengthened.
New Youth Group: Tuesday & Saturday 7 PM (Ages 13-18)
Thur. 12-1PM: "New Noon Recovery Meeting with Josh & Pat
Thur. — 7 PM: Ladies Night w/ Debbie Hall (12 Step Life Recovery Bible/Workbook & Personal Testimonies weekly)
Thur. — 7 PM: Men's Night w/ Lynn Parr & Scott Powell (12 Step Life Recovery Bible & Workbook)
Sat. — 7 PM: Step Night (12 Step Life Recovery Bible/Small Groups)
Sunday Morning at 9:30 AM Explore and Discuss the Bible with Dwain & Arvel Adkins.
Praise & Worship begins at 10:30, Message by Dennis Hall at 11:15–Evening Service is devoted to the promises of
————————————————————————————————————————————
 In closing I have chosen a couple of our heavenly Father's sentences that I feel best describes the work He is doing through our ministry, "Blessed be the God and Father of our Lord Jesus Christ, the Father of mercies and God of all comfort, who comforts us in all our affliction, so that we may be able to comfort those who are in any affliction, with the comfort with which we ourselves are comforted by God.–As a father shows compassion to his children, so the Lord shows compassion to those who love him. For he knows our frame; he remembers that we are only dust, "I, I Am He who comforts you." 2 Corinthian 1:3-4, Psalm 103:13-14, Isaiah 51:12.
Please help me with a simple survey. Enclosed is an envelope, just add a stamp and mail it letting me know you enjoy keeping up with this work and would like to continue receiving the monthly newsletters. Your continued support has allowed us to destroy many works of the devil in our community as we take the kingdom of God into the dark places of our sphere of influence. Thank each of you for sharing in this most needed work.
—————————————————————————————————-
—————————————————————————————————-
Loving God-Loving People-Serving Both While Serving Our Community. Changing Our World One Heart at a Time!
WEBSITE: www.DeliveredFromMeth.com 
E-MAIL: dennis@deliveredfrommeth.com
PHONE:580.606.3784  FAX:580-475-0681  Blog:dennisjhall.wordpress.com
If you would like to become a partner in this ministry, please make out support checks in the name of The Recovery Church, P.O. Box 2117, Duncan, OK 73534 in order for them to be tax-deductible 
—————————————————————————
—————————————————————————
The Recovery Church
Stephens Co. Jail Chaplain
P.O. Box 2117
Duncan, OK 73534
Fax:      580-475-0681
Phone   580-606-3784