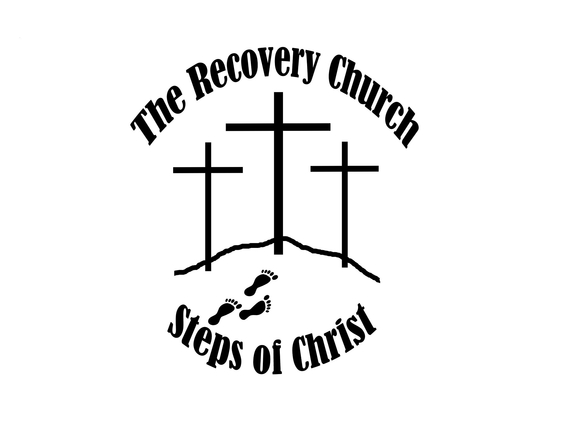 Monthly Newsletter
October 2012
Jubilee 2012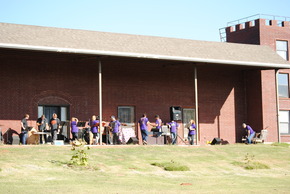 Jubilee 2012 "Oasis of Life" is over, and a huge success! God gave us a beautiful day to glorify his name. As I stood on the front porch of the future Castle Recovery Home, and looked out over the beautiful, park like, front yard, with trees and ponds, I was overwhelmed with gratitude to our Father in heaven. How can we ever say thanks for the things you have done for us! You prove over and over to us, your love. We owe everything to you! This Castle Home and the 20 acres that surround it, is indeed an Oasis of Life. The definition of an oasis is a place or time of relief: a place or period that gives relief from a troubling or chaotic situation.
Three out of four of our grandchildren were able to attend the jubilee, as soon as the car doors were open, they were gone to explore the banks of the ponds and swing on a rope out over a pond that usually has water in it! I watched all the children laughing and playing out in the grass and thought to myself, this is what it is all about, this next generation, and teaching them God's ways. Surely the presence of the Lord is in this place. 
 We want to thank all of the Recovery Church brothers and sisters as they joined together and with enthusiasm helped make this a joyful and fun occasion. We were allowed to honor the local authority and recognize them for their part in helping the recovery ministry, as we labor together in this war against drugs and endeavor to restore the biblical meaning of home with a mother and father who love God and have purposed their lives together to glorify God in everything that they do, which most importantly means, raising their children to trust and obey God!
Jubilee Auction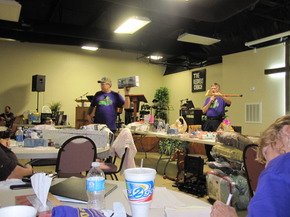 Lynn Parr ran the Jubilee Auction last month. Many of you and several local businesses donated lots of good stuff. The turnout wasn't as large as we were hoping, but with the items donated we raised over a thousand dollars. Thank each of you so very much! The Recovery Homes have many expensive. Thanks to Lynn & Sandy Parr for allowing many of their rentals to be homes for these men , women, and families. 
Recovery Staff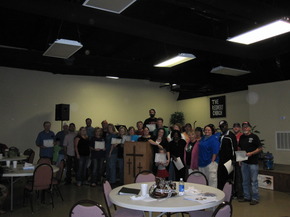 The engine that makes The Recovery Church run. Two years ago we were birthed with 12 ordinary folks. Today we have over 35 volunteer staff that keeps things running smoothly. Pictured are some receiving recognition for our appreciation for them and all their hard work!  It takes all of us working as a team and you guys are a great team.  Debbie and I love and appreciate each of you very much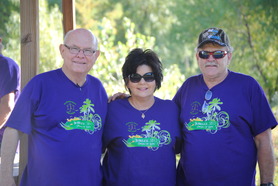 Sharon Cain, Joe Norton, and I would like to thank ALL the businesses who gave so freely to make this year's Jubilee a huge success. Over 50 local businesses donated money and services and the Lord smiled graciously on the evening. It takes resources to keep Recovery Homes operating and all proceeds that weren't spent on the Jubilee went into the continued work of recovery ministry and the soon to be Castle Home. We are so grateful for Sharon & Joe and they blessed us with some encouraging words for our future together. Debbie is writing the story about this year's Jubilee and will tell all about it. See featured story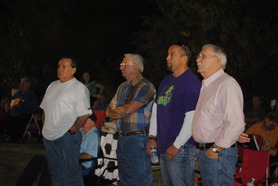 We honored our local law enforcement and pictured are Dave Horn, Jim McNair, Lawson Guthrie, and F.L. Estes. All these men are very instrumental in this work God is doing through our local government and recovery ministry in Duncan. I love each of these guys and they love the Lord Jesus and care deeply about human beings. They are great at their jobs in law enforcement and use their positions to help those who want to be helped.  We are very grateful for our drug court/parole office, Sheriff's dept, and DA's office for teaming with us in a common kingdom cause of transforming our city all to the glory of God.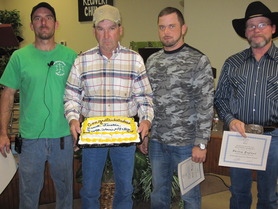 Josh Holt presents certificates to Scott Powell, Shane Marquis , and Phillip England for advancing to the next phase of the two year drug court program. All these guys are on the last leg. Not pictured are Justin McCord, and Brant Gentry who graduated this month. Scott and Josh both facilitate our men's night and Saturday step night. Phillip does anything we ask him. We are very grateful for each of these men and even more proud for them. Many years of addictions stole all of their lives. Now they have a new life with purpose and are learning what it means to give back.
——————————————————————————————————
Tuesday at 7 PM & Sunday at 10:30 AM & 6 PM: Regular Church Services.
New Youth Group: Tuesday & Saturday 7 PM (Ages 13-18)
Thur. 12-1PM: "New Noon Recovery Meeting with Josh & Pat
Thur. — 7 PM: Ladies Night w/ Debbie Hall (12 Step Life Recovery Bible/Workbook & Personal Testimonies weekly)
Thur. — 7 PM: Men's Night w/ Lynn Parr & Scott Powell (12 Step Life Recovery Bible & Workbook)
Sat. — 7 PM: Step Night (12 Step Life Recovery Bible/Small Groups)
Sunday Morning at 9:30 AM Explore and Discuss the Bible with Dwain & Arvel Adkins.
Praise & Worship begins at 10:30, Message by Dennis Hall at 11:15–Evening Service at 6 PM is devoted to the promises of God.
 mu
Come feel the Love of Jesus be refreshed, encouraged, and strengthened! —–
————————————————————————————————–
Loving God-Loving People-Serving Both While Serving Our Community. Changing Our World One Heart at a Time!
————————————————————————————————————————————————————————————
If you would like to become a partner in this ministry, please make out support checks in the name of The Recovery Church, P.O. Box 2117, Duncan, OK 73534 in order for them to be tax-deductible 
——————————————————————–
Dennis & Dennis Hall Ministries 
The Recovery Church
Stephens Co. Jail Chaplain
P.O. Box 2117
Duncan, OK 73534
Fax:      580-475-0681
Phone   580-606-3784