HOME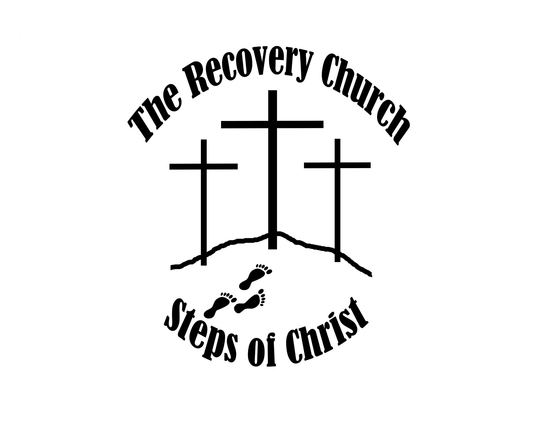 Monthly Newsletter 
May 2013

Wow! It's already June 2013; this has been a very trying and blessed year, as we have honestly dedicated our lives to building God's Kingdom Church! Growing from a Recovery group into a biblical based church, from converts to disciples, is not an easy transition! We had great counsel to "start small and think big! Not to despise small beginnings for Jesus turned the world upside down with 12 ordinary men who grew and matured and became great men of faith. That is really a hard thing to wrap your head around when numbers seem to be the goal of today, but sadly that is not the truth. There are some vital aspects to growing a church by God's grace and the leading of the Holy Spirit. The first thing to know, is that not everyone that comes to our church will have the same vision as we do and we will have to stay strong and not waiver, even when the money or people leave. Although a church is organized and administered by an assembly of believers the church is not their possession. Believers established a church based on Christ's instruction. It is Christ who owns the church and is the Head of the church. ". . . he hath purchased with his own blood." (Acts 20:28) A biblical church is one in whom Christ is the Head, and follows the Word of God. If a church does not follow the Bible, then it is not a church that belongs to God, because in refusing to obey the scriptures they separate themselves from God.
God has continued to faithfully mold us and shape us more and more in to the image of Christ. Learning to deal with criticism, building a ministry team, developing covenant relationships, and maintaining spiritual vitality and authenticity!  Even through all this, God has continued to see us through and to bless us over and over for staying strong, and keeping Jesus exalted. Read John's weak moment in Luke 7:19 "And John, calling two of his disciples to him, sent them to Jesus, saying, "Are You the Coming One, or do we look for another?" Jesus' answer was basically to tell John the word of God and reminded him that blessed is he that is not offended in Me. Friends, in your darkest hours it is the Word of God that will bring light to darkness, death to life, despair and hopelessness to joy and peace. I'm convinced that God's blessing on us is because we are not offended in Him, (Jesus the Christ). 
——————————————————————————————————————————
Ladies Night at The Recovery Church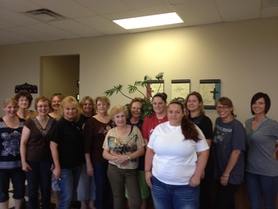 2 Corinthians 5:17 tells us that, "If anyone is in Christ, he is a new creation. The old has passed away; behold, the new has come."We sisters of The Recovery Church have purposed our lives to shed the skin of our old ways! When women feel confined or mistreated , when they are unsure of what is right or which way to proceed, when they are entering unknown territory, when they feel overlooked or ignored it is very hard to follow the commandments of loving others as ourselves, loving our neighbors, or even to love an enemy! We are trying to combine the 12 Step Life Recovery Bible/Workbook, with the 49 Commands of Christ. We are examining our hearts each week and using practical application in  our lives, basic instructions that the Bible gives us on how to practice taming our tongue, giving up the right to be right, and forgiveness, (ourselves first). This is building a good foundation to start with. This also is building a wonderful sisterhood. We have discovered that we each have trials in our lives that we are working to overcome. James 5: 16 says, "So admit your sins to each other, and pray for each other so that you will be healed. Prayers offered by those who have God's approval are effective" (GW). Confessing our faults is hard, but the blessings received are immeasurable and eternal. We have to do it! We have to pull off the mask if we want to be free. We have to be real, become real, if we want real forgiveness, real cleansing, real restoration, and real empowerment for new life.  If we want to have real friendships, we need to open up and build relationships with each other, and we are!  It's awesome to see God move in transparency.  Not pictured is Sandy Parr, she is a vital part of our family……by Debbie Hall
——————————————————————————————————————————Men's Night at The Recovery Church
Ephesians 2:10 "For we are His workmanship, created in Christ Jesus for good works, which God prepared beforehand, that we should walk in them." The men's group at The Recovery Church is combining the 12 Step Life Recovery Bible with "The Power for True Successful Living," How to build character in your life, based on the 49 Commands of Christ. We take on a character quality each week and practically apply it to our lives as we learn to go from recovery into a living relationship with our Lord Jesus Christ and with each other, we are dedicating our lives to building a church family. God established the New Testament churches to be a vital part of the life of the believer therefore, it is important for Christians to have a proper understanding. The more we understand the true nature of character, the more we realize how humanly impossible it is to fully carry it out on our own. Furthermore every character quality is a practical expression of genuine love. True love springs from a heart that is willing to give, not from a heart focused on personal gain. One who has genuine love will demonstrate all character qualities all the time.  We need to learn to thank God for all things- even trials, rejoice in all things by finding benefits in them, learn and engrafting Scripture, crying out to God when necessary, doing good works for all  people — even our enemies. To the degree that we carry out these responses, we will experience the power of genuine love and every other related character quality. We are learning how to be mature, faithful, spiritual leaders of our homes, so that we can truly say, "As for me and my house, we will serve the Lord"   Joshua 24:15 (Several men are not Pictured, sorry guys we missed you)
——————————————————————————————————————————
 
The Browns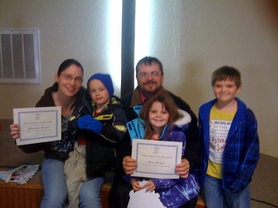 In last month's newsletter letter I opened with a powerfully encouraging word on keeping your vision and dreams alive through faith in our Almighty Father. A week after that newsletter the Lord truly blessed in a way that will allow us to do even greater works for His kingdom. Jesus gave us a great lesson in the parable of the talents. The ones who used their monies and gifts wisely for His kingdom were given double in proportion to how they invested, the one who perceived the King as being a hard man and buried his money and saved it, was strongly rebuked and what he had been given was take away and given to the one who had invested the wisest. We believe with all our hearts that God wants us investing in families and lives for His kingdom, and HE has provided for us amazingly so we can continue to do even greater works. The Castle Home and other recovery homes are in our near sites as we seek God's direction with what He's entrusted to us. Pictured is the Brown Family, another one saved and God is putting back together. A car, home, and job all in a very short time when just a few months ago their situation looked hopeless. Praise God and thank each of you who support and believe in this ministry. Debbie and I also thank our church family for these almost 3 years. WOW! Is the only word I can come up with for what God has done in 4 1/2 years of me being out of prison. To all our prison brothers & sisters who write and pray for us this ministry is God's encouragement & hope to you of what He WILL do with a life that's sold out to Him! We love each of you and pray that you will use this time to develop a deep intimate relationship with Jesus the Son & God the Father. For blessed is he who is not offended in Me! I love you John & Rick!
——————————————————————————————————————————
Weekly Calendar

Tuesday at 7 PM & Sunday at 10:30 AM & 6 PM Regular Services
Thursday 12:00 to 1 PM: Noon Recovery Meeting with Richard
Tuesday   8 PM Ladies Night with Debbie
Tuesday   8 PM Men's Night with Dennis
Saturday  7 PM Step Night with Arvel
Sunday      9:30 Discuss and Explore the Bible with Dwain. This month Job, Ecclesiastes Making Sense of Life
Praise & Worship begins at 10:30, Message by Dennis Hall at 11:15–Evening Service 6 PM is devoted to the Promises of God.
Loving God-Loving People-Serving Both While Serving Our Community. Changing Our World One Heart at a Time!
Dennis & Debbie Hall Ministries

 


The Recovery Church
Stephens Co. Jail Chaplain
P.O. Box 2117
Duncan, OK 73534
Web:   

 

www.deliveredfrommeth.com
E-mail: 

 

dennis@deliveredfrommeth.com
Fax:      580-475-0681
Phone   580-606-3784 
If you would like to become a partner in this ministry, please make checks out to The Recovery Church, P.O. Box 2117, Duncan, OK 73534 in order for them to be tax-deductible.