HOME
March Newsletter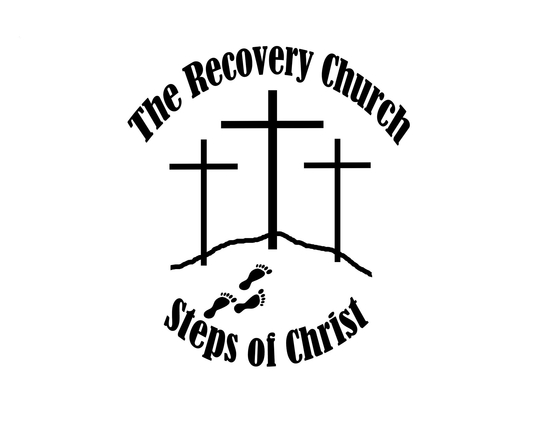 March Newsletter 2012
Love makes the world go around. All the world's religions point to the power of love as central to what it means to be alive. Life offers us so many courses in love, so many chances to refine and expand our practice and understanding of it. We start in the nest of the family when we bond with our parents. Friendship and first love open our eyes to new possibilities. Marriage and parenting give us a chance to get love right in another family setting. And all along, we are encouraged to practice loving in our everyday relationships.
                The love of God says, "I'll call the unloved and make them beloved" (Romans 9:25 MSG). Our love depends on the receiver of the love. Let a thousand people pass before us, and we will not feel the same about each. Our love will be regulated by their appearance, personalities, social statues, color of their skin, and the list goes on. Even when we find a few people we like, our feelings will fluctuate. How they treat us will affect how we love them. The receiver regulates our love.
                Not so with the love of God. We have no thermostatic impact on His love for us. The love of God is born from within Him, not from what He finds in us. His love is uncaused and spontaneous. Does He love us because of our goodness? Because of our kindness? Because of our great faith? No, He loves us because of His goodness, kindness, and great faith.                 
Raymond & Sandy Howard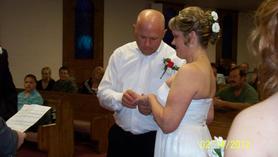 Valentine's Day comes in February and so it is traditional to celebrate love this month. We'll be doing so by featuring our love story; Raymond Howard and Sandy (Morris) Howard were married February 14th, 2012. It was the quickest wedding I've ever attended,(LOL). Room doesn't allow telling their complete story, which by the way is still being written, but God has brought these two from a long difficult journey to a sweet and joyful home full of His love. We are so grateful that these two love birds are part of our family. Raymond's video testimony can be seen on our web sitewww.deliveredfrommeth.com click testimonies. Also several messages by Raymond can be heard by clicking on audio sermons. Sandy is working on putting her testimony together soon.
Easter Egg Hunt/Family Day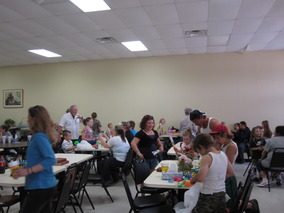 Last Year's Easter Egg Hunt was such a success we decided to make it an annual event. We are looking into several different ways of improving it and making it a family affair. We are looking into all kinds of different and exciting activities for the kids, both young and old.  Mark your calendars for Saturday, March 31st at 3 PM. The date is for sure, God willing, but times may change depending on what we come up with as far as activities. There will be a pot luck dinner, fellowship, and praise and worship from The Recovery Church praise team following the day's activities. Check the web site for updates as Easter nears.
Stephen County Sheriff/Jail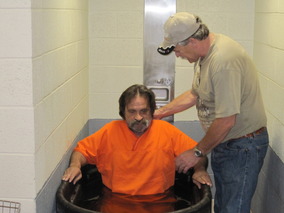 We are excited about what's going on in the jails this year. God is continuing to do great works in the jail and we feel this year will be even better. A family purchased and donated some new updated equipment for our video's and seminars and it is a tremendous blessing to the Chaplains. Harold Green, Josh Holt, Sandy Gabriel and Pat Ellis will be assisting me this year, along with the other Chaplains. It's very inspiring for the men in jail to see that a relationship with Jesus and following His ways does really change one's life. Sheriff McKinney, David Horn, F.L. Estes, Jim McNair, and the entire department are to be commended for allowing the work of our Lord to continue as it has.
Renovation/Expansion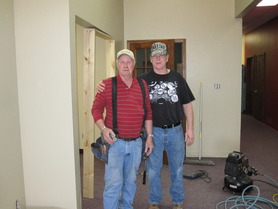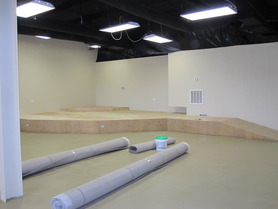 The renovation and expansion of our church is finally coming to a close. Seems like we have been 10 years, but actually it's only been 6 months. The relationships which have grown from so many different people, from such different backgrounds, working together for a single cause, have been phenomenal. Family bonds have developed and deepened and united this body even closer. People from very different backgrounds is what Jesus used turn the world upside down and He's still doing it today. We would like to pay a special thanks to Sharon Cain of the Stephens county drug court and all the great folks at the pardon and parole office for the community service laborers. We work hard with these great men and women in helping change our community by put lives back together one at a time.
Some of The Recovery Church Team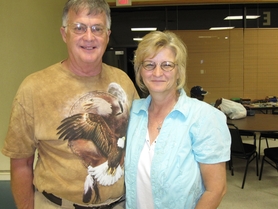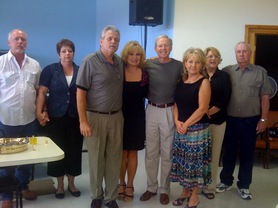 In closing I would like to share something the Lord has shown us of late about the 12 ordinary people He used to change the world. From a tax collector to an insurrectionist, talk about different personalities, backgrounds, and professions. In all likelihood these two hated each other.  Yet these men spent a couple years with Jesus and after His accession God used them to change the world. The 12 were gathered at Pentecost with over 100 others when the Holy Spirit came and through their obedience and love for one another the Kingdom of God that begin as a mustard seed is continuing to conquer the world. The disciples had faults and character flaws. They were incredibly ordinary just like you and me. Yet these men were transformed and learned to love one another in spite of one another and are still influencing the world today. God delights in using the ordinary for His extraordinary purposes.  They were not orators or theologians. Their natural talents and intellectual abilities were in no way outstanding. They were prone to failure, none more so than Peter, the leader. Jesus even stated that they were slow learners and spiritually dense (Luke 24:25). Yet, after little more than eighteen months of training, they changed the world. "…the ultimate success of the strategy actually depended on the Holy Spirit working in those men to accomplish His sovereign will. It was a mission that could not be thwarted. That's why it was a work for which God alone deserves praise and glory. To Him alone is the praise and glory "Those men were merely instruments in His hands just as you and I can be God's instruments today.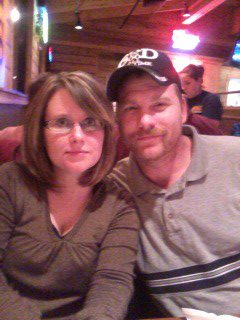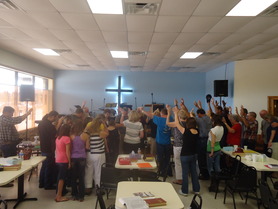 NOTHING IS IMPOSSIBLE
"For with God nothing shall be impossible." Luke 1:37. 
What a statement! If we just believed this, how different our lives would be! From birth we are trained to know our limitations. You can't have this. Don't touch that. Don't put things in your mouth. You can't touch the fire. On and on the list goes. As we grow up, it's actually a sign of maturity to recognize our limitations and learn to live within them. There are limits to everything. It's a fact of life. But God has no limits. When we enter into the realm of the supernatural, we have to take off all the limits. We have to renew our minds with the truth that God is not like us. He can do anything. We have an awesome God whose power is so great that we can't even comprehend it. He created the universe and it didn't even tax His ability. Yet many times we find ourselves wondering if our situation is too hard for the Lord. We can't see how even God can pull us through. The Lord said to Jeremiah, "Behold, I am the Lord, the God of all flesh: is there anything too hard for me?" (Jer. 32:27) The answer is a resounding NO! The only thing that limits God is our unbelief (Dt. 7:17). Today, let's honor God by believing that nothing is too difficult for Him.
Weekly Calendar
Tuesday at 7 PM-Sunday at 10:30 AM & 6 PM Regular Church Services 
Come be Refreshed and Encourage by the Love of Jesus
Mon. 7 PM:
Couples Night: Joe & Melody Horton 
Thur. 7 PM:  Ladies Night "New Night"
: Debbie Hall  (12 Step Life Recovery Bible & Workbook) This week personal testimony from Carol Zachary pertaining to Step 2, lesson 2, "Grandiose Thinking."
Thur.7 PM:  Men's Night
with Scott Powell & Lynn Parr (12 Step Life Recovery Bible & Workbook) This week Step 5, Lesson , "Feelings of Shame." 
 Sat.  7 PM:   Step Night with Joe Horton (12 Step Life Recovery Bible/Small Groups). This week step 7, lesson 2, "Unintentional Sins."
 
Tuesday, February 28th, we will discuss the characteristic of "Discretion vs. Simple-Mindedness". Discretion is using wisdom to avoid damaging attitudes, words, and actions that could result in undesirable consequences and also to give insightful counsel.
 
Sunday, March 4th,  2012,
I will bring a two part message "Do Not Cast Pearls" taken from Jesus' command. " Give not that which is holy unto the dogs, neither cast ye your pearls before swine, lest they trample them under their feet, and turn again and rend you" (Matthew 7:6).Morning service begins at 10:30 AM and evening service is at 6 PM. Evening service will always have a time for personal testimonies. 
Sunday Morning Explore and Discuss the Bible with Dwain & Arvel Adkins. Begins at 9:30 AM. This month the Book of Luke: The Truth About Jesus.
 
Praise & Worship begins at 10:30, Message by Dennis Hall at 11:15–Evening Service Begins at 6 PM with Personal Testimonies.
If you would like to become a partner in this ministry, please make out support checks in the name of The Recovery Church, P.O. Box 2117, Duncan, OK. 73534. Thank you and may God richly bless all you do in ways that only He can.
Loving God-Loving People-Serving Both-While Serving Our Community. Changing Our World One Life at a Time
Dennis and Debbie Hall Ministries 
The Recovery Church
Stephens Co. Jail Chaplain
P.O. Box 2117
Duncan, OK 73534
Fax:      580-475-0681
Phone   580-606-3784
Blog:
dennisjhall.wordpress.com