Monthly Newsletter June 2012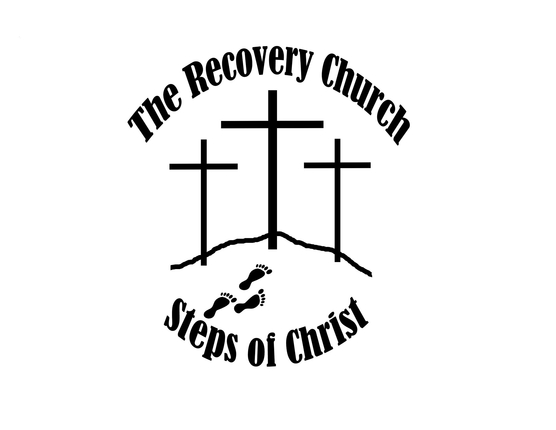 Monthly Newsletter 
June 2012
Feature Story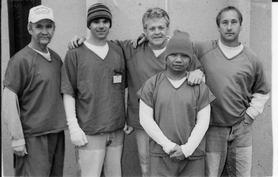 This month's newsletter in dedicated to the men and women in prison who have, or is, allowing the Lord to transform their lives and become disciples of Jesus Christ. This picture was taken four years ago; I lived at Cimarron Correction Facility, B-North 226, Cushing Oklahoma, a high medium security prison. At the time I had no ideal I would be coming home, pictured with me from left to right are my old cellmate John Huskey,  my Christian brothers Jason Jones, Bolo, and Rick Hamilton. All these men have life sentences or worse, and God is using them mightily to change the prison environment. Last week, after 3 ½ years, I went to church with Jason, he's at the Lawton Community Work Center,  and  is 90 days from coming home after 21 years. He went to prison at the age of 14 and is now 35. Jason is like a son and will be joining us in the ministry, unless God leads differently.  What the Lord has done in these 3 ½ years is still hard to believe. From leading a prison faith Pod, to pasturing The Recovery Church.  From B-North #226 and John Huskey, to a God sent wife and new home at #26 Canterbury Lane. From 120 rough men on the faith pod, to a growing flock and 30 of the best volunteer staff members a Pastor could ever won't. This Church is taking the kingdom of God into the dark places of our county, and Debbie and I are so very grateful to our Church family for their unconditional love and servant hearts. This work is only as good as the men and women behind the leaders, and we have over 30 of the best volunteer staff members. Thank each of you for sharing the burden and the vision.
—————————————————————————————————————————————————————————————-
Newsletter Team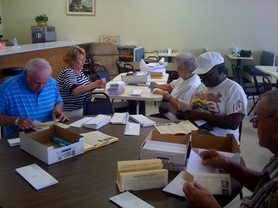 In celebrating the third year of this newsletter we are grateful to the Lord that He has used it to encourage and give hope to many. We begin with less than 50 letters and none by e-mail. We now have a team of servant hearted people stuffing envelopes once a month, and a growing e-mail list of over 1500.  Our circulation is largely to prisoners and their families, people with loved ones lost in the drug/ alcohol world, gangs, the dark places etc. It's been our goal to highlight people and families that have been completely transformed by the power of God, people that seemed hopeless and beyond help. These stories have greatly encouraged many and given hope to family and friends. It is a living proof that God is still in the business of changing lives. The Kingdom of God is still at work and is winning this war on drugs regardless of what the media tells you. People like Sharon Cain, Joe Norton, and Martha Ray of the Stephens county drug court, the sheriff's department and jail staff that are mentioned below, the parole officers of this county, all of these men and  women are on the front lines of this war  putting lives back together. We are very thankful for each of these wonderful folks who go beyond their duty, because they care and are making a difference in our community. All the praise and glory to our Lord Jesus Christ.
—————————————————————————————————————————————————————————————- 
Jail Ministry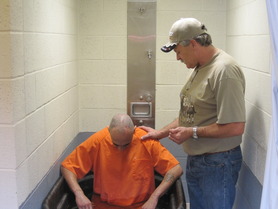 We have baptized well over 100 men and women the past couple years in the jails. But what we have been most pleased about, the one thing we have labored so hard for is how they are doing in prison. We have been preparing them to allow God to make something good come from their prison experience. God turned prison into a seminary for me and changed my life forever. I try and encourage these men and women to allow the same thing. We get letters from some of my old prison brothers telling us the folks coming from Stephens County are a different breed. They are coming with the attitude of using this time to allow God to transform their lives.  We have a tremendous respect and big thanks to Sheriff McKinney, Dave Horn, FL Estes, Jim McNair, and the entire staff. They make this possible by laboring together with us in this war against the devil. The Recovery Church has also become a refuge for those who didn't have to go to prison and those coming out. That has been our hearts desire, to stop this madness and vicious cycle of repeated offenders by having a safe, and loving environment. A place to develop and learn God's ways for our  lives. This also is the mission of the future Recovery Home that I mentioned  last month and we will be keeping you informed on the progress. We are still putting together this year's Jubilee and hope to have everything posted by next month.
———————————————————————————————————————————————————————————— 
"New Youth 317"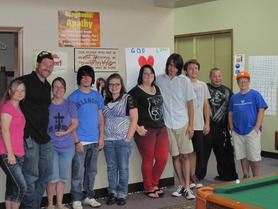 Where Do you Want To Be In 10 Years?
We Can Help You Get There
 
Joe & Melody Horton, and Mike Mullins are building a new and exciting youth ministry Jesus' way by building relationships based on love and communication. They've had one garages sale, helped sell food for an auction, and other events to raise money for a Frontier City trip this month and next year's Falls Creek trip. Joe spoke at the Edge Academy School earlier this year and has been invited back. Several of them are getting involved. We are reaching out to the outcast kids with damaged lives and who come from broken families.

 

 Spread the word and come hang out with us as we learn the ways of our Lord Jesus together. 
Tuesday & Saturday 7 PM  (Ages 13-18)
—————————————————————————————————————————————————————————————- 
"Josh & Sarah Holt Wedding Day"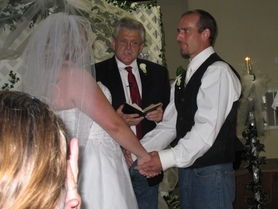 The wedding of Josh and Sarah Holt was a tremendous blessing for them. They wanted to say a very special "Thank You" to the many of you who made this dream come true. So many labored and planned to give Sarah the wedding of her dreams. The Lord just continues to bless them as they strive to build this family God's way this time.
—————————————————————————————————————————————————————————————- 
"
New Praise Team & Stage
"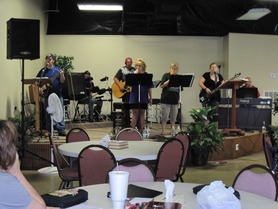 Inclosing I just want to thank the many of you who continue to support this work through your prayers, encouragement, and finances. We minister by investing ourselves into people's lives, and as you support us, you too are investing yourselves in putting lives back together. Our rewards come as we see those like Josh and Sarah and many others, whose lives the Lord is putting back together, well to see them begin giving back and becoming a blessing, that's worth a million dollars . Isn't that what it's supppose to be all about? We need each other, God designed us that way. No one person is better than another, just different circumstances for many. Remember what Jesus said, "whatsoever you do to the lest of one of these My brothers, you have done unto Me! John Huskey is coming up for parole and is one of the Godliest men I have ever known. He was the greatest cellmate a guy could ever have; God used him mightily to shape me. Guys I receive all your letters, just don't have the time to write each of you individually, but I love to hear from  each of you and get so encouraged by your letters and prayers, so please  keep them coming. Some of you I lived with many years and miss you deeply. Vernon Allen thanks for your many letters, Bolo write me, Rick and guys of the faith pod keep up God's work, and John send my love to all. I will see you soon! I love each of you, and yes God will bless beyond your wildest dreams a life that is sold out to Him! I'm living proof of that!
———————————————————————————————————————————————————————————— 
Weekly Calendar
Tuesday at 7 PM-Sunday at 10:30 AM & 6 PM: Regular Church
Come feel the Love of Jesus, be refreshed and encouraged.
Thur. 12-1PM:
"New" Noon Recovery Meeting: Josh Holt & Pat Ellis (Life 
Recovery Bible/Workbook) This week step 1, lesson 6,  "A Time to Choose".
Thur. 7 PM:  Ladies Night "New Night":
Debbie Hall  (12 Step Life Recovery 
Bible & Workbook) This week Frankie Bryant will share her personal story 
from step 4, lesson 2, "Facing the Sadness"
Thur.7 PM:  Men's Night Out with Scott Powell
(12 Step Life Recovery Bible & 
Workbook) This week Step 7, Lesson 4, "A Humble Heart".
Sat.  7 PM:   Step Night with Joe Horton
(12 Step Life Recovery Bible/Small 
Groups see below). This week step 10, lesson 3, "Dealing With Anger".
Tuesday June 12th, 2012, "Virtue vs. Weakness" taken from Jesus' Command, 
"Beware of Leaven". Virtue is the moral excellence and purity of spirit that 
radiate from my life as I obey God's Word and is the power of that life when 
it is in harmony with the holy standards of God.
  Sunday, June 17th,
2012, I will bring a life giving message"Beware of 
Leaven" taken from Jesus' command "Then Jesus said unto them, Take heed and 
beware of the leaven of the Pharisees and of the Sadducess" (Matthew 16:6). 
Morning service begins at 10:30 AM and evening service is at 6 PM. Evening 
service is devoted to the promises of God, Faith comes by hearing, hearing 
the word of God. This week the promises of God concerning "Virtue"!
Sunday Morning
Explore and Discuss the Bible with Dwain & Arvel Adkins. 
Begins at 9:30 AM. This month the Book of Joshua, Judges, Ruth: Character at the Crossroad.
Praise & Worship begins at 10:30, Message by Dennis Hall at 11:15–Evening 
Service Begins at 6 PM with The Promises of God.
————————————————————————————————————————–
————————————————————————————————————————–
Loving God-Loving People-Serving Both While Serving Our Community- Changing Our World One Heart at a Time
————————————————————————————————————————