The Recovery Church
July 2011 Monthly Newsletter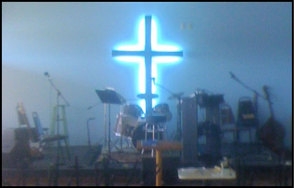 What is Recovery? Many think we are a church only for drug, alcohol, and other addictions. But the word recovery actually entails much more than recovering from alcohol and drugs. Here are some definitions with my comments in italics. Recovery; a return to an original state, (a relationship with our heavenly Father), a turn or change for the better, (repentance), the act of regaining or saving something lost or in danger of being lost, (our souls).The action of regaining possessions, (our souls and the Kingdom of God), deliverance of mankind, or of freeing from captivity or punishment, (eternal hell). The act of taking something back (like to Kingdom of God).
            Everyone in our society is recovering from something, (some from religion). Bringing people to a living relationship with Jesus, and then, through the power of the Holy Spirit, teaching them the ways of the Lord, well that is what The Recovery Church is founded on. In the great commission Jesus says, "All authority has been given to Me in heaven and on earth. Go therefore and make disciples of all the nations, baptizing them in the name of the Father and of the Son and of the Holy Spirit, teaching them to observe all things that I have commanded you; and lo, I am with you always, even to the end of the age." Amen (Matthew 28:18-20).
            A disciple is a disciplined, sold out follower of Jesus Christ, and Jesus tells us how to make one. Bring people to a living relationship with Jesus, then teaching them to observe all things that He has commanded us; and if we are faithful with this co-mission, here is one of the most powerful promises in the Bible, and lo, I am with you always, even to the end of the age. Amen. "WOW", that excites me, and Jesus has been faithful with His promise to our church, because, as we have been faithful in our mission, He is continually showing Himself strong and alive with us through many miracles, signs and wonders. The greatest of these being, the many lives that have been drastically transformed by the power of God Almighty.
The Cross that stands behind our stage was the ideal of my precious aunt Jimmie. She is one of those hidden body parts that the Apostle Paul described in Corinthians, those parts that don't get much attention, but try to live without a kidney or heart. She's one of those who labors behind the scenes for us, and faithfully drove mother seven years, each month, to see me in prison. We had many talks in the visiting rooms about these days, but never dreamed this ministry would explode as it has. She is working on three more crosses for our new stage which will be much longer when we move into our new space. I love you Aunt Jimmie. Pictured with Jimmie is Kenneth James one of those lives God has drastically transformed. I met Kenneth in jail, the day he was released he called me to pick him up, that was two years ago and he's been with us ever since. Can't get rid of him…lol…I love you Brother Kenneth.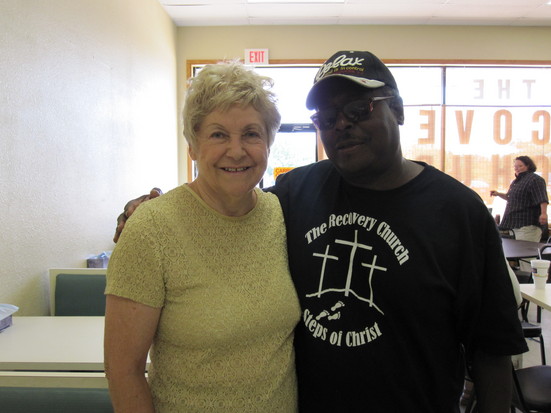 Aunt Jimmie and Kenneth James
Our trip to Victory Life Church in Durant OK was a tremendous blessing. We met with Pastor Lee Armstrong; he is assistant pastor for Duane Sheriff, what an incredibly humble armor bearer this saint is. His story would encourage life in a desert. We got the grand tour of this awesome church family, and met a few of these precious saints, including Jelly (Brother Duane's daughter), and Susan Moore who is in charge of the two plus million CD's and DVD's which are given out yearly. They can produce 80 CD's a minute,  they have their own school, football stadium, and one of the best day care centers in the state, which happens to be a city block long, it's an old skating rink. Debbie and I witnessed in Durant, 25 years of what we feel the Lord is leading The Recovery Church to be in Duncan. Victory Life Church has a membership of 4,000 in a population of approximately 16,000 and they have 8 other locations throughout Oklahoma and Texas. They didn't get this way passing out hundred dollar bills, but teaching the Word of God and making disciples, plain and simple. They are very involved with recovery ministries and rehabs. God is blessing the city of Durant through this church in many phenomenal ways. We desire also to be a channel of God's blessing in Duncan. At the end of our conversation with Pastor Lee, his quote to us was, "Dennis and Debbie, how can we help you, up to half of our kingdom is yours". That was his way of letting us know that they were behind the move God is doing through The Recovery Church, and 25 years of experience was available to us. We left understanding why God sent us there, and I haven't touched the ground since. Thank you so much brother Lee, we love you and this awesome new family!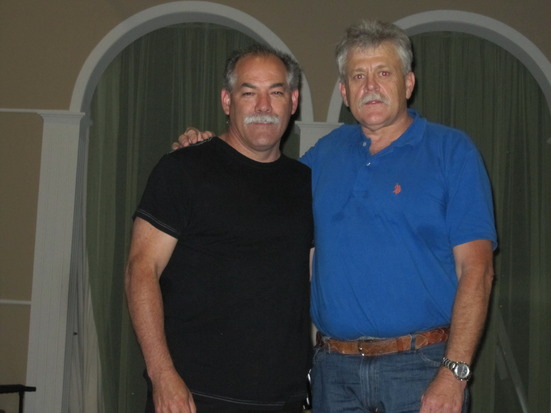 Pastor Lee Armstrong
Ladies and Men's Nights have become very successful; Susan Shaffer and Debbie Hall are leading our ladies on a journey through the Life Recovery Bible with workbooks. We are developing deeper relationships with our small group family's, which encourages communication and transparency that leads to spiritual freedom. Lynn Parr is doing the same great job with our men. God has made an incredible promise about small groups of believers: "For where two or three have gathered together in My name, I am there in their midst" (Matthew 18: 20). We are seeking to be the spiritual men and women God designed us to be, that we might be the salt and light of this world. God did not leave us here to breath up all the good air, or to just wait the return of Jesus, as good as that day will be, He gave us a Great Commission, bring His Kingdom to the world through our lives and BE the salt and light of the world making disciples of ALL nations.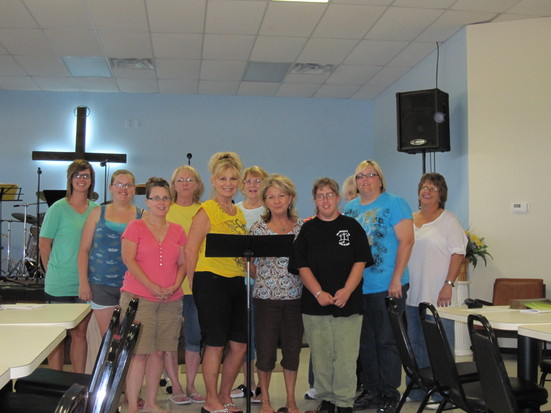 We're so thankful for Susan & Jerry Shaffer of Preferred Realty, and Sandy & Lynn Parr of Parr Real Estate. Both have provided so much help in housing and helping people with a hand up in getting their lives put back together. Guys, thank you for everything you do, we love and appreciate you so very much.
Dennis Hagan and Lisa Meehan's video testimonies are now posted on the web sitewww.deliveredfrommeth.com click testimonies. Also enjoy and be blessed by many other testimonies on the site.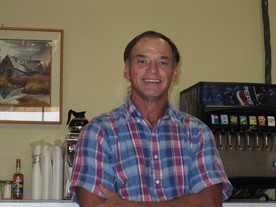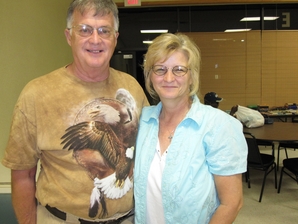 Something New and Exciting for Friday Nights. Music, Fun, and Fellowship, our praise teams are practicing on Fridays and allowing anyone with music gifting to come and be a part. God has given each of us gifts and ways to express our love and praises to Him, so come try out and join us. Also we, and other praise teams are coming together monthly for mini-jubilee celebrations.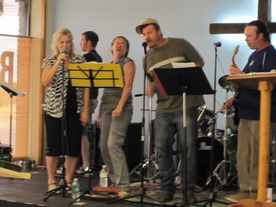 To best describe "The Recovery Church", I have taken some wise words from Charles Swindoll, making reference to Joshua 20, Cities of Refuge:
Finding a Refuge:
The law of supply-and-demand is something we face every day. Because there are those who need, there must also be those who provide. There are employers and employees. There are counselors and counselees. But it breaks down when it comes to refugees. There aren't enough "refugers" to meet the demand. Back in the days when the Hebrews settled in Canaan, they set up cities of refuge. People who were in danger–even those guilty of wrongdoing–could escape to one of these six cities and find personal relief and refreshment. Don't misunderstand. These weren't sleazy dumping grounds for hardened criminals. These were territories dedicated to the restoration of those who had made mistakes. People who had blown it could flee to one of these places of refuge and not have those inside throw rocks at them. The Recovery Church has taken the traditional Wednesday night church service and combined it with our Tuesday night open share recovery meeting. This has been very successful allowing our church members and recovery group to get acquainted. We get into small groups and discuss questions pertaining to the night's lessons which are taken from the "Commands of Christ". It allows closeness, oneness, and the opportunity to communicate the love I believe Jesus wants from us when He gave the great commission in Matt. 28:18-20. As we journey together and take the time to teach and make disciples we are giving a valuable part of ourselves, our time, to one another. The most precious way to demonstrate our love for others is by giving ourselves. That is the purpose of "The Recovery Church", if you do not have a church family come join us and feel the love of Jesus, be refreshed and encouraged as we journey together through the ups and downs of life.
| | | | | |
| --- | --- | --- | --- | --- |
| | | | | |
We baptized Sabrina Isbell and dedicated baby Ma'tty'ka Miley Sutterfield, daughter of Sonja Brown last week. Sonja' story is another testimony of what Jesus is doing through our church. Left homeless with two little girls, the Lord led her to our church. This body of saints is such a blessing to pastor, they raised funds and we had this family back into their home quickly. We have taken the responsibility of providing all kinds of services and help for Sonja has she gets her life back on track.

 

Church Calendar


 

Tuesday at 7 PM and Sunday at 10:30 AM & 6 PM: Regular Church Services.


 

Mon. 7 PM: Couples Night Joe & Melody Horton/Marriage Counseling Debbie & Dennis


 

Wed. 7 PM:  Ladies Night Out with Susan Shaffer


 

Thur.7 PM:  Men's Night Out with Lynn Parr


 

Friday 7 PM: Christian Fellowship and Band Practice/Try Outs


 

Saturday 7 PM:   Step Night

 

 

The Recovery Church Calendar


In closing we would like to thank everyone for all the help in moving into our new home, the turnout overwhelmed us. You guys are the best flock a pastor could want. We want to leave you with these words from the Apostle Paul: Rejoice in the Lord always. Again I will say, rejoice! Let your gentleness be known to all men. The Lord is at hand. Be anxious for nothing, but in everything by prayer and supplication, with thanksgiving, let your requests be made known to God; and the peace of God, which surpasses all understanding, will guard your hearts and minds through Christ Jesus. Finally, brethren, whatever things are true, whatever things are noble, whatever things are just, whatever things are pure, whatever things are lovely, whatever things are of good report, if there is any virtue and if there is anything praiseworthy–meditate on these things. The things which you learned and received and heard and saw in me, these do, and the God of peace will be with you. (Philippians 4:4-9).
Dennis & Debbie Hall Ministries

 


The Recovery Church
Stephens Co. Jail Chaplain
P.O. Box 2117
Duncan, OK 73534
Web:  www.deliveredfrommeth.com
E-mail: dennis@deliveredfrommeth.com
Fax:      580-475-0681
Phone:   580-606-3784
Blog:dennisjhall.wordpress.com 
Web:  www.deliveredfrommeth.com  Email:dennis@deliveredfrommeth.com
Phone: 580.606.3784 Fax: 580-475-0681       Blog:dennisjhall.wordpress.com
If you would like to become a partner in this ministry, please fill out the form below, clip it off and mail it to our new church, The Recovery Church. Please make out support checks in the name of The Recovery Church, P.O. Box 2117, Duncan, OK 73534 in order for them to be tax-deductible.
——————————————————————————-                   Ministry of Dennis Hall Partnership Form (12/2009)
Name ____________________________________ E-mail ____________________________________
Address __________________________________ Phone____________________________________City, State, Zip _____________________________ Web _____________________________________
(  ) I will be in earnest prayer for this ministry.                                                        (    )  I commit $_______as a one-time offering.
(  ) I will commit $________monthly (as the Lord allows)                                        (   ) Please remove me from this mailing list