HOME
January 2016 Newsletter


In Genesis 12: 1-4 God planted a vision / dream in Abraham's heart that He, (God) was going to do something in Abrams heart first, then through him and his seed would change the world. Abraham believed God and so it came to pass!
In Genesis 16:1-15 we find Sarah, Abraham's wife, got impatience with God and plotted her on plan, unfortunately she involved a young innocent slave girl named Hagar. After being subjected to Sarah's plot then mistreated she fled running back to Egypt (the world). God spoke to her as she set at a well and In Gen 16:8 He said Hagar, "Where have you come from, and where are you going"? A question we all need to ask from time to time. She was running from her pain, rejection, difficulties, back to Egypt (the world). At that moment God planted a dream in her heart as well, she had a "new life"inside that He would bless and multiply if only she would stay in her assignment and go back and face her difficulties alone this time knowing He was with her.
God fulfilled His promise to both Abraham and Hagar only as they trusted Him in His leading, and as they took Him at His word and faced their giants (their difficulties, past mis-steps & mistakes, hurts, pains, & rejections, etc.). They trusted and He was faithful to deliver!
Vision 2016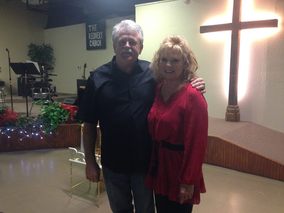 Debbie and I are excited about 2016 and our future. God has planted a vison for Recovery Church like Abrahams. Our short term vison for this year is to continue to work toward a healthy family environment. Surrendering our hearts to the care of our Lord as Abraham and Hagar takes a lot of trust. Many of our folks, especially our children haven't known what trust or love are like. Like a wife having to totally trust hear husband before she is able to surrender all to him, so Jesus, as our husband, is wooing us to trust Him with all our hearts. God has showed us this year to continue the small life groups, bowling trips, camping & lake trips, and create ways to build closer trusting relationships with each other, in order for needed healing to take place.
Breaking the Cycles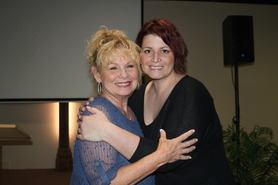 Oklahoma has more women, (many being mothers) incarcerated than any state in America, and many reports say any country in the world. We are continuing our endeavors for men's, women, and family homes as well as the (Castle House for Mothers and Children)!
Heather Phillips has been to 8 different rehabs, twice to prison, and considered hopeless by many. Her amazing story in posted on the web site at www.deliveredfrommethcom. She is 3 years delivered, completed two years of college, become our personal grant writer, I might add a very good one, and has been three years living for the Lord and enjoying a new journey of life with Jesus. She is part of Recovery Church media department and Recovery Church Outreach director. God is breaking the statistics that say this can't be done. 
Building Healthy Relationships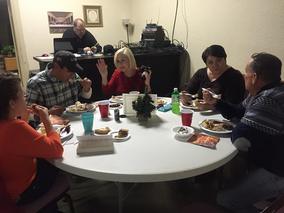 Many coming out of this life, like myself, have never known any boarders or boundaries. Therefore respecting authority or laws were never established or developed in early childhood. This is the major problem facing our society today. Our church has taken this responsibility seriously and we are now establishing strong boarders and boundaries without becoming a religious system of do's and don'ts.
We are teaching our folks to build healthy relationship with Jesus and each other through trust & intimacy, which will bring healing and will lead to total surrender to Holy Spirit. Nothing can ever conquer a heart conquered by God! That's why God is continually wooing us to trust in Him.
"5 Years"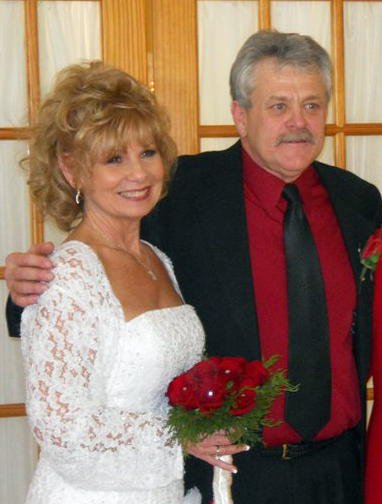 December marks many great episodes in our lives. Not only did Steve & Stacy Eden come celebrate Jesus' birthday by bringing us two powerful messages which can be heard along with all messages atwww.deliveredfrrommeth.com click audio sermons. 
Debbie and I also celebrated our 5 year anniversary, she's an amazing Godly wife who God is using to mold me into the spiritual leader I need to be. For me it's been a journey of death to my self-ish flesh, and learning to be a Godly husband which will in turn make me a Gods kind of man / pastor / leader.  According to many studies only 3% ever make it this far, either dead, back in prison, or junkies as I was. But God said we are new creations, behold I have made "ALL" things new. Amen He has and still is!
Youth Standing for God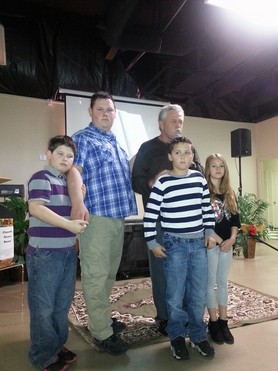 Thanksgiving we celebrated our 5 year anniversary as a church family…It amazing how many lives God has touched through this ministry…The entire 30 minute video can be viewed atwww.deliveredfrometh.com  be sure & watch till the end…a few seconds delay between the songs changing… Also several short two minute video testimonies of God's transforming power through love on same page!
We've had many baptisms in 5 years ….including lots of jail baptisms…but what thrills us the most is changed lives, sons & daughters, true disciples of the kingdom of God. We ended this year baptizing Oliva Walden, Elijah Jones, Kamdyn Whetstone, not pictures are Johnny Griffith, Lexi Jones,and Devin Thomason. Congratulations guys…
Prison & Jail Outreach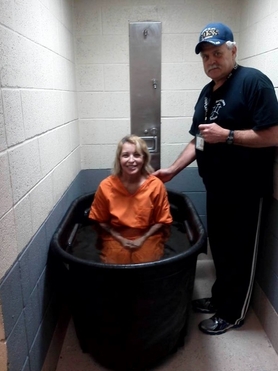 Continue your prayers for Debbie and I as we are ministering at Cushing, Granit, and Holdenville men's  prisons, and Mable Bassett ladies, we also go twice monthly to Redemption Church at Lawton and minister to Lawton & Waurika DOC Work Centers. We can't take on all the doors opening so we are continually seeking God's direction that we don't take on more than we can handle. It's not how big your minister is, but how well you're doing with what He's entrusted to you. 
I'm excited to be back weekly in Stephens county jails along with Debbie. Lots of kingdom work and we are excited to see so many getting a hold of God's truth and believing who He says we are, (no matter how good and holy it is Rm. 1:16-17, 1 Cor. 1:30, 2 Cor. 5:21), and believing what He says we can do no matter how unbelievable it sounds (Phil. 4:13).
"Godly Mentors"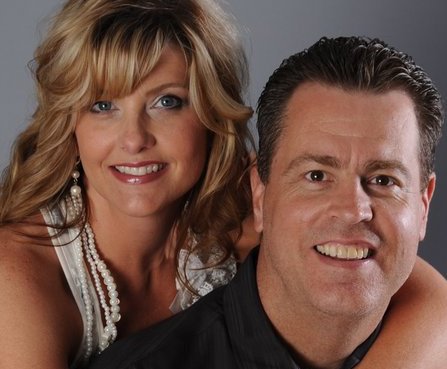 God has provided me with two great mentors this year in Lee Armstrong and Steve Eden. Both part of Duane Sheriff ministries with a combined 60 years ministry experience. We have the same ministry DNA. Debbie and I are very grateful for their interest in this us and this work. Much planned for 2016 birthed from this relationship. 
"Our Team"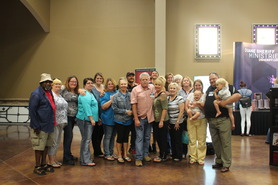 In closing I'm reminded of Isaiah 6:8 which says, "Iheard the voice of the Lord saying, whom shall I send, and who will go for us? Then said I, Here am I; send me". God wasn't directing His call to Isaiah only, Isaiah over herd God calling out, who will go…? 
Debbie and I stand amazed at what God's done in 5 years through this work simply because many of you have heard the call of God and have partnered with us in building God's kingdom, His way, and believed in God Almighty working in and through Recovery Church bringing life and hope to a dark, lonely, and blinded people / world! We continue to ask God to bless and multiply all your efforts whether they be much needed prayer, encouragement, labor, or finances. It's all tremendously appreciated and keeps moving this Kingdom work forward. Enjoy the videos, your part of this joyous work!
Loving God-Loving People-Serving Both by Serving Our Community. Changing Our World One Heart at a Time!
Dennis & Debbie Hall
The Recovery Church 
PO Box 2117
Duncan, OK 73534
Web Site: www.deliveredfrom.com
E-mail dennis@deliveredfrommeth.com
If you would like to become a partner in this ministry, please make checks payable to The Recovery Church, P.O. Box 2117, Duncan, OK 73534 in order for them to be tax-deductible. Or try our new on-line donation by clicking on our web site at www.deliveredfrommeth.com which logs your information to assure you will receive a tax credit!