Monthly Newsletter
January 2013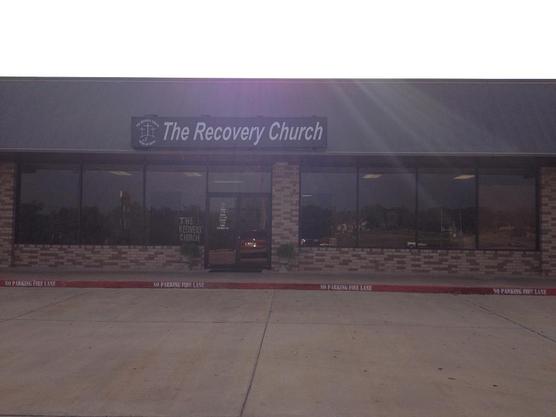 Monthly Newsletter
January 2013 
Christmas Celebration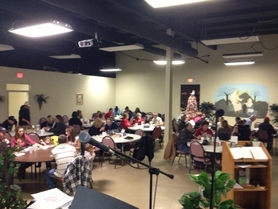 We had a great Christmas party this year with a powerful word on vision. I encourage you to go to the web site at www.deliveredfrommeth and click audio sermons. Find the messages titled "Vision, Minor Adjustments Make Major Differences, &  If We Faint Not". They will bless you immensely. Debbie and I would like to thank each of you that have given so generously in 2012, and also to those that gave to the Christian fund. We were able to be a blessing to several families on top of the housing and jobs and transportation that The Recovery Church has been able to provide the past year. We believe 2013 will be an even greater harvest of homes and jobs and souls brought into the kingdom of our almighty God. All to the glory of our heavenly Father and His Son Jesus Christ!
————————————————–
 Welcome Home Johnny
————————————————–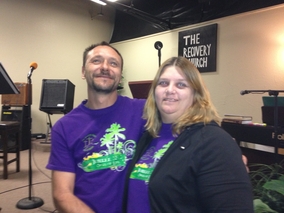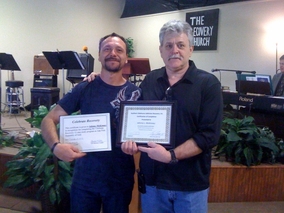 We are so grateful to the Lord for Johnny McKinney and his loving wife Darlene. I will be honest; many times I wanted to send Johnny packing to put it mildly. He is a living example of why we don't give up on people and also a message to wives that they are the inner strength to their husband's success and a warning NOT to become enablers or co-dependents. The past couple years have been an advance crash course for us in these areas of recovery. Johnny went to a 6 month rehab order by a caring parole officer. Debbie is using our Thursday ladies night to teach about the destruction of co-dependency and enablers to mom's and wives. Thanks also to the parole office and Linda Underwood for truly caring about people. Duncan is blessed with a great parole office and drug court with professionals that love people and care deeply and want to see them succeed.
————————————————–
January Baptisms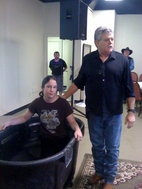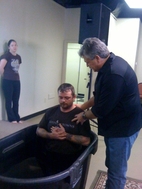 Pictured are Gary & Christine Brown, and Kim Connelly. It's been a long hard road for these three, but like the prodigal, they found their way to their Father! We have labored hard with Kim, so her new life is especially rewarding to us. We baptized 8 ladies in the jails in January: Kellie Beddoe, Guadelupe Araiza, Kayla Durbin, Anna Faz, Chasidy Legrand, Serena Blalack, Laura Moffitt, Randi Burleson. This is the fruit from the ministry efforts of Jeana Meadows, Frankie Bryant, and Debbie Hall. I visited the women's side before Christmas and it's the best I've ever seen it. God has used these four and a lady by the name of Jumpin Judy to bring a revival in the women's side. Praise God! We also have a new reading program that mother's can read out of a book on a recorder, then we can take that book and recording to the child and let it hear it's mom read to it.  Daisy Lawler is heading up this ministry! We are grateful to Sheriff McKinney, Sharon Seely, Jim McNair, and Dave Horn for all the work in the jails.
————————————————–
Drug Court Graduation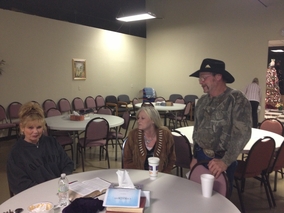 Pictured are Debbie, Phillip & Julie England. He, Rhyan Wilhelms, and Scott Powell will be graduating this month from the two year drug court program. We have journeyed with each of them in this new life of theirs and so thankful to God that we have been able to be a part of this radical transformation that has taken them from death to life, from darkness to light, from cursing to blessing all to the praise of God!  We love each of you deeply!
————————————————-
Unless You Become Like Little Children You Shall Not See the Kingdom of Heaven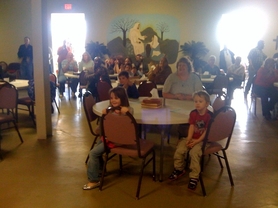 Amanda Blake and Jamie Mangum are doing a great work with our kids these past couple years. They labor to not only teach them about Jesus, but to bring Him alive into their lives in new and creative ways,  while at the same time imparting God's vision for their life and challenging them to believe He has great things for in store for them.  They are very excited about new adventures this year. We have something for the kids on Tuesday, Saturday, and both Sunday Morning and evening. 
———————————————-
SPECIAL TESTIMONIES
Tammy Cavener will be sharing her powerful testimony Saturday, Jan 26, at 7 PM. Also Jason Hunt will share his story the first week of February look for date on the web site. For video testimonies go to our web site atwww.deliveredfrommeth.com and click on testimonies.
———————————————- 
Some Closing Thoughts
In  In closing God says, "Ask what you desire, and it shall be done for you. By this My Father is glorified, that you bear much fruit; so you will be My disciples."(John 15:7-8). William Carey said, "Expect great things from God; attempt great things for God". I believe God is waiting for each of us to grab hold of a great vision for our lives–a vision that matches His own–and plead with Him for it to come true. Am I asking God for more so I can do more for the kingdom? In 2012 we needed much more space and completed our new sanctuary; we saw a tremendous need for Recovery Homes and jobs. We believed for the Homes and purchased our first while getting closer to the Castle Home for women and children and day care. Thanks to Parr Reality we have housed dozens of families and thanks to many local businesses we have provided even more jobs. We needed a van and obtained one, a new sign and it was done. I could go on and on but you get the picture. We have never had the money or staff for any of this. We saw a need for God's kingdom, made ourselves available and God provided, through many of you. We expect even more in 2013 as the need for housing and jobs and transportation increases…It's going to be a great year of harvest and all of you who support this work will share in the joys with us! Ask yourself a simple question, if the Lord was to come take me or my church away, would the community miss us!
————————————————————————
Weekly Calendar
Tuesday at 7 PM-Sunday at 10:30 AM & 6 PM: Regular Church
Come feel the Love of Jesus, be refreshed and encouraged.
Thur. 12-1PM: 
"New" Noon Recovery Meeting:
 Richard Neeld 
Life Recovery Bible/Workbook) 
This week step 5, lesson 7 , "
Escaping Self-Deception
".
Thur. 7 PM:  Ladies Night "New Night": Debbie Hall  (12 Step Life Recovery Bible & Workbook) This week  Step 7, lesson 2, "Giving Up Control".  
Thur.7 PM:  Men's Night with Dennis: (12 Step Life Recovery Bible & Workbook)  Step 11, Lesson 1, "A New Hiding Place".
Sat.  7 PM:   Step Night with Dennis (12 Step Life Recovery Bible/Small Groups). This week Step 1, lesson 6 "A Time to Choose".
Tuesday Jan 8th, 2013, we will begin looking at the General "Commands of Christ". These are the "Steps of Jesus Himself", which He promised would set us free. Step 1, "Repent" taken from Matthew 4:17, "From then on, Jesus began to tell people, "Turn to God and change the way you think and act, because the kingdom of heaven is near".
Sunday, Jan. 13th, 2013 A great message titled "God's Man Gideon- The Weakest & The Least", taken from Judges 6-7. Evening service is devoted to the promises of God, Faith comes by hearing, and hearing the word of God. This week the promises of humility.
Sunday Morning Explore and Discuss the Bible with Dwain & Arvel Adkins. Begins at 9:30 AM. This month the Books of Hosea, Amos, and Jonah: Revealing the Heart of God.
Praise & Worship begins at 10:30, Message by Dennis Hall at 11:15–Evening Service Begins at 6 PM with The Promises of God.
——————————————————————————————
Loving God-Loving People-Serving Both While Serving Our Community. Changing Our World One Heart at a Time!
If you would like to become a partner in this Dennis Hall Ministries, please make out support checks in the name of The Recovery Church, P.O. Box 2117, Duncan, OK 73534 in order for them to be tax-deductible.
Dennis & Debbie Hall Ministries 
The Recovery Church
Stephens Co. Jail Chaplain
P.O. Box 2117
Duncan, OK 73534
Fax:      580-475-0681
Phone   580-606-3784