August 2011 Newsletter
Pictured below are Pastor Dennis Hall & his wife Debbie, Elder Richard Neeld & his wife Sue, Elder Wayne Graham & his wife Gerol, and Jerry Shaffer and his wife Susan, the laying on of hands and ordaining Jerry as Apostolic Elder. That's a big word for Overseeing Elder. A Pastors Sheppard. Jerry has 35 years in ministry, he and his wife Susan own and operate Preferred Realty. We are very blessed to have this meek spirited saint, and his gracious wife, as our overseeing Elder. Debbie and I are equally honored to have Jerry as our personal Pastor. It's gives us great confidence to move forward in this kingdom work that God has placed before us. Jerry and Susan are very like-minded as to the mission God has set before our Church. We always had the way, (the vision), but the how I was struggling with from lack of experience and knowledge. We now have our covering according to our Lord's structure of authority. We are very excited about the future for a recovery home and the expansion of our church.  

The entire video message titled "A Pastors Sheppard" can be seen at   

www.deliveredfrommeth.com

  click on Recovery Church.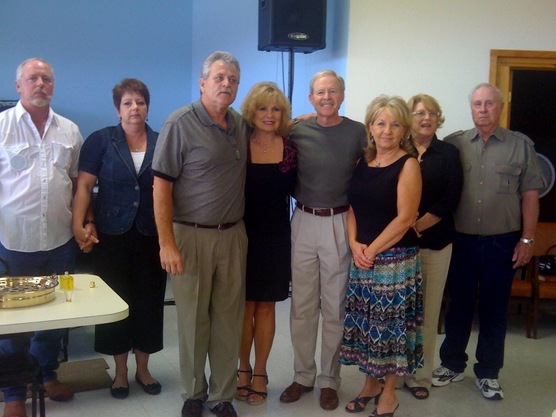 Raymond Howard Testimony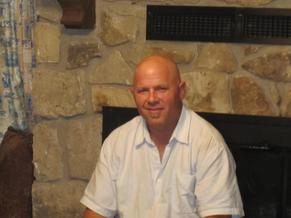 Raymond Howard has been a real blessing to us with his God given gifts of music. This multi-talented musician had a story to tell. A generational Assembly of God Pastor, he fought religion and the mean spirit that attaches itself to religion. The power Satan has over folks is in the secrets of their hearts, if he can scare you enough into keeping things secret, then he will control your life. We need to be more concerned about what God thinks of us, and less concerned of what people think. Believe me everyone has skeletons, usually those pointing the hardest finger has the ugliest one's. Raymond's story will bless you, free you, and cause you to fall deeply in love with Jesus, who say's,"There is therefore now no condemnation to those who are in Me, who do not walk according to the flesh, (what they can do), but according to the Spirit, (what has already been done in, by, and through Jesus Christ). For this awesome video go to

 

www.deliveredfrommeth.com

 

click on testimonies. 
Joe Horton Anointed into Ministry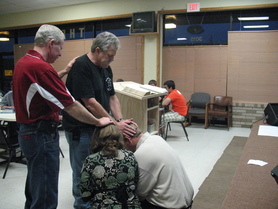 Jerry and Dennis laying hands on Joe and Melody Horton. We anointed Joe into the ministry of "Steps of Christ Recovery". Joe has taken over Saturday night "Steps of Christ Recovery". Debbie and I will still be very much involved in Recovery as we continue building family groups. Joe has been with us for a year and has passed the test of faithfulness to his calling. Joe and Melody have a great relationship with our Lord Jesus and a heart for people, a God heart, they love people. They have labored endlessly for the Lord's kingdom without losing sight of the importance of a personal relationship with Jesus. This will free us up to be more involved with pasturing our church, the jails, drug courts, parole office, and continue the work toward a recovery home. Joe & Melody have our same vision and heart for people. Joe's step dad, Lynn Parr is now our music director, Lynn has many years experience in the music ministry. Joe's mother Sandy, is on our praise team and God has worked through Sandy and her position with rentals to help dozens of homeless folks get housing. The first fruits of a recovery home! We are so thankful for you, each of you are a blessing to our community!
Bobby Wheeler Baptism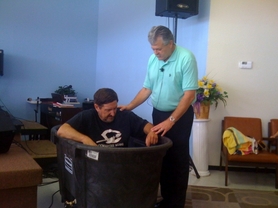 It was my honor to Baptize Bobby Wheeler, Sarah Holt, and Alexis Reynolds this month. Bobby and I go back a long way, to the days I lived like the devil, he did too. This is a huge defeat to Satan's kingdom, as I dunked Bobby it felt like I hit the devil right between the eyes, knock him out! Praise God!  
Dwain Adkins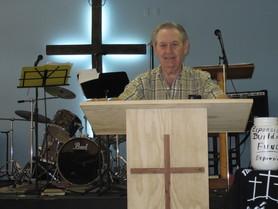 We are so grateful to have Dwain Adkins and his brother Arvel. They are such a blessing to our church and this mission. Dwain teaches the Sunday Morning Bible study 9:30 AM. Actually it's more of a GROUP discussion as we journey through different books of the Bible. We are finishing up the book of Jeremiah and beginning

 

Romans for the next month. Come be encouraged as we discover fresh nuggets from God's word. 
Church in Washington D.C.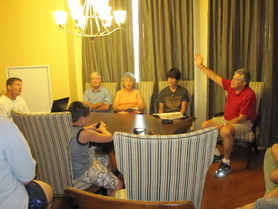 Our trip to Washington DC this month was a great experience. Pictures will be posted on the web site soon. We enjoyed our time with the family. God blessed us through Debbie's folks, and we stayed at the Wyndham Resorts on National Harbor. The history of our country is phenomenal, and to see the tribute paid to our founding fathers was overwhelming. Great men and women died for this country and our freedom. We better begin to appreciate it or it will be taken away from us. I was truly inspired that God is still alive in our capital, we hear so much negative media. Our second day there, Saturday, we met Chuck Farnham and his family from Mississippi. We begin sharing our life stories, and though mine begin in the clubs and drug world, it ended at the cross with Jesus and a new life. Chuck and his family are very active in their local church and very interested in recovery, he asked where we were going to have church in the morning, then he said we will have in our suite, 10th floor. So about 13 of us had church Sunday morning in the Farnham suite. I prepared a message and we all shared testimonies.God's presence was truly overwhelming there in the midst of this small body of believer's. They were a delight to meet. This was my first trip to DC, it was a lot of hot walking and large crowds, but well worth the experience. It is really breath taking!  
The Josh Menasco Story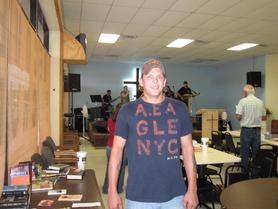 Josh Menasco shared his amazing story from the Texas drug world, to a life with our Lord. He had a surprise at the end of his testimony, he proposed to Kim Herd, the mother

 

of his beautiful daughters, he said he was getting his life right with God! To see the powerful video

 

of Josh Testimony, go to

 

www.deliveredfrommeth.comclick on testimonies.
Youth Ministry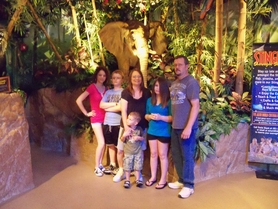 Tina and Ron Young have joined us with a heart for youth. They have three Bright Lights themselves. May Lynn 17, Tera 15, and Christopher 13. They are in the early stages of putting together a Youth Ministry between the ages of 13-18. They meet on Tuesday and Saturday nights at 7 PM. Tuesday nights they are meeting after the song and worship for a message from God. Then the big fun night is Saturday from 7 to 9 PM. Food, games, music, message, and fun! Invite your friends in this age group to come join the excitement. More things to come in the future as we grow. Also Sunday Mornings at 10:30 Jared Spann is offering for the youth a practical study of the Bible, and gleaning the truths of God's word and how they apply to your life today..  
Join us Saturday,September 10th 2011, 2PM 

 

in Honoring Robert (Fiddler) Bilbrey, and Shanna Isbell in Marriage. This is yet another wonderful testimony of Jesus changing two lives and then putting them together in honor of Him.
We have been so busy lately with everything. Debbie's house in Woodward sold and we got her things moved down here, then God blessed us with a new home which we are about to get moved into. The church is growing and all this has really been time consuming to the point we missed the jails for three weeks. We are finally getting things back to some kind of normal and back into the jails. I have never missed going into the jail that long since the day I walked out of prison, I missed the guys. Sandy Gabriel and Richard Neeld went with me last week and feel this is Gods call on there lives right now so we will have some help with Duane Sheriff Seminars . Our trip to Victory Life Church, in Durant, to Jubilee 2011, well it's just hard to put into words. God was there in a mighty way! Thank you Victory for your servants heart to rural America
Tuesday at 7 PM-Sunday at 10:30 AM & 6 PM: Regular Church Services.
Come feel the Love of Jesus and be refreshed and encouraged.
Mon. 7 PM: Couples Night Joe & Melody Horton
Wed. 7 PM:  Ladies Night Out with Susan Shaffer (12 Step Life Recovery Bible & Workbook)
Thur.7 PM:  Men's Night Out with Lynn Parr (12 Step Life Recovery Bible & Workbook)
 Fri. 7 PM: Christian Fellowship and Band Practice/Try Outs. So You Think You Got Talent-Come See!
Sat. 7 PM: Step Night with Joe Horton (12 Step Life Recovery Bible)
In Closing I would like to honor these local businesses for their continued support of the work God is doing in our community through Recovery . Preferred Realty, Parr Real Estate, Rod's Guitars, Mangum Automotive, Sears, Kel-Pro, Smith Pixels, Rebecca's Flowers, Red River Computer, Danny Thomas Testing, Janet Siebert Taxes, Chisholm Trail Shopper, Marlow Review, Cable One, Ramsey's Rental Property, Joe Horton Construction, Christian Helping Hands, Burton Meat Market, and to the many individuals and families who have sacrificed and labored with money, time, words of encouragement and love, prayers, especially prayers, thank you. This seems to be a small payment for such a treasure of blessing that you have been to us, and this great mission God has placed before us. What we do in life echoes in eternity. Whatever sacrifices we have made will be made up to us. God will not be our debtor. I am completely confident that in that final day, we will recognize that it was worth it all (Luke 18:28-30).
Web:  www.deliveredfrommeth.com  E-mail:dennis@deliveredfrommeth.com
 Phone: 580.606.3784 Fax: 580-475-0681          Blog: dennisjhall.wordpress.com
        If you would like to become a partner in this ministry, please fill out the form below, clip it off and mail it to our new church, The Recovery Church. Please make out support checks in the name of The Recovery Church, P.O. Box 2117, Duncan, OK 73534 in order for them to be tax-deductible.
—————————— Ministry of Dennis Hall Partnership Form (12/2009)—————————————————
Name ____________________________________ E-mail ____________________________________
Address __________________________________ Phone_______________________ City___________, State____, Zip_______ _____________________________ Web _____________________________________
(  ) I will be in earnest prayer for this ministry.                                                         (    )  I commit $_______as a one-time offering.
(  ) I will commit $________monthly (as the Lord allows)                                        (   ) Please remove me from this mailing list