Spring 2015 Newsletter

God's word for Recovery Church in 2015 has been "New Beginnings". He has called us to excellence, not perfectionism, but to aspire for excellence. We are created in the very image of God Himself. If we're not growing and moving forward then we are moving backwards in God's eyes. What parent wants their children to be wearing diapers always…There is no standing still in God's kingdom. If you're standing still you're being defeated by the enemy…Growing, changing, maturing, improving, taking  challenges, receiving correction, and building for generations is part of Recovery Church DNA / New Image.
God's Called Recovery Church to a New & Improved Image. He's Certainly Doing His Part to Assure This Happens as We Have Answered the Call!
New Van / New Image-1
After the News 9 story aired, (video on wed site),we were contacted by and individual who desired to bless this work. They donated the funds for us to purchase a brand new, top of the line, Church van, praise God!! We have been faithful with our old green monster…It has served us well and we are so grateful for it. But its defiantly time for a upgrade. We have spotted two and in the process of obtaining the one for us. God says he who is faithful with the least will be faithful with the greater blessing! We certainly are receiving the greater blessings in this season of New Beginnings!
New Web Site and Computer Systems / New Image-2
After the van we contacted a local software company who has partnered with us from the very beginning about updating our computer systems / website etc. We asked about a price and they joyfully and excitedly donated all this blessing to us…"WOW" Thank you Jesus. Talk about a boast of encouragement!  Through the van and this blessing God has really encouraged and confirmed us. We are old and out of date; their team is building us a state-of-the-art web site and computer system. One tech said Dennis, "We are bringing you out of the dark ages and into this new age"J..I Liked that!
We Don't mention by name  the wonderful folks and businesses that support this work in so many ways, not because we are ungrateful, but we don't want to hinder them receiving the greater blessings from our Heavenly Father…When the gift is secret, God promises to reward the giver openly.  Matthew 6:1-4,  "Watch out! Don't do your good deeds publicly, to be admired by others, for you will lose the reward from your Father in heaven…. Give your gifts in private, and your Father, who sees everything, will reward you openly".
I would much rather they receive acknowledgement and rewards from God than me…We are overwhelmed with gratitude for our partners. This needful kingdom work would never go forward without  God's obedient kingdom builders and suppliers! It is our daily prayer that the Lord does as He has promised and rewards each of them with His divine favor, protection, peace, joy, love and His abundant Life!
Drug Court Graduations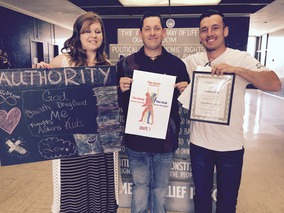 Russell Ponder and Stephanie Weir phased up in drug court last month. They have made the half way mark! Stephanie gave her assigned talk to the judge on Authority; Russell gave his on mind renewal. Both were really good and hopefully came from their hearts through experience. So often we get the knowledge in our minds and it doesn't make lasting change. It has to get into our hearts through walking / living this out through a relationship with Jesus in order for God's word to make supernatural transformation in our lives. Both Stephanie and Russell have come a long way. We are excited about their futures. Corey Garibay graduated the two year program. Congratulations to all three 
Ladies Jail Ministry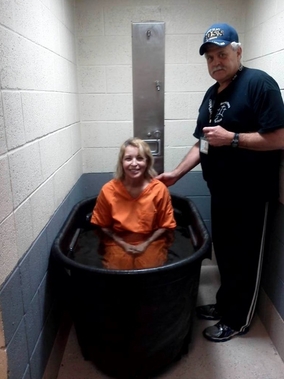 Debbie has a great ministry inside Stephens's county jail once again and seeing some great results. Many of these ladies, after being released, have kept their word and are getting hooked up with our church family. They are growing in their relationships with Jesus. Learning how to be disciples of our Lord and becoming good mothers, wives, employees, etc.. It's exciting after so many years of learning from trial and error to begin to see a good harvest of lasting fruit! The jails were locked down without any chaplains or ministers for over 9 months. due to a huge mistake in replacing FL Estes after he retired. The sheriff hired the absolute worst jail supervisor Stephens County has ever had. He destroyed many years ministry and has been terminated from the entire Sheriff department / courthouse. The work of re-building the Chaplaincy program has been underway the past 6 months and moving very slowly. We went from one of the best jails in the state to one of the worst in 9 months. We baptized over 200 men and women from 2010 to 2014. Nothing this year but Debbie is working on allowing us to do jail baptisms once again.  Please pray that the Sheriff will continue to put the right people back in place and make wise decisions!
Prison Ministry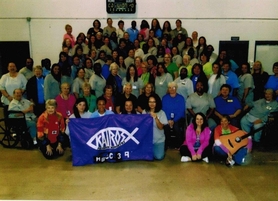 Debbie and I area now ministering inside 4 different prisons. Men's prisons are Holdenville, Cushing, Granite.  Women's prison is Mable Bassett. It's exciting seeing God opening so many new doors of ministry. Our ministry is powerful inside the prisons because we are able to share from our personal lives and offer hope to many who are forgotten. Our story, especially my life, and Debbie marrying someone with a past like myself, offers encouragement to these men and women. They can witness first hand, with Jesus "ALL" things are possible and can happen if we only believe and put forth the effort. We are having great success in our services brining people into a living relationship with Jesus and teaching about becoming disciples. We are interested in seeing genuine transformation and discipleship. Jesus has come to reestablish His Fathers kingdom and to empower the children of His Kingdom. This cannot, or will not, be achieved with baby converts; it takes disciples, disciplined followers of Jesus who know who they are in Christ, and the power that's available to them to do spiritual warfare. We have heard the call for this hour and taken this challenge from our Lord seriously!  
Anna Boyer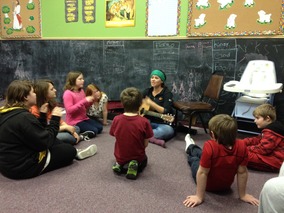 Anna Boyer spent several nights with our kids while she was home between mission trips. She inspired our kids into a deeper and fun relationship with Jesus! She is a bright light and we are grateful that she's a part of our work when she's in from the mission field. She's ministering all over the world. If you are interested in following her ministry this is her web sitewww.annakayboyer.com
Winter Fest Ford Center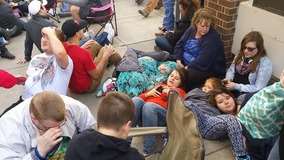 Jamie, Sue, Waylon , Christie, Johnny, Darlene, JR, and Adrianna took around 15 of our kids to winter fest. They had a blast. Many of our kids never get to do anything like this. They all came back inspired and so excited. Jamie and Sue exhausted!  
Mable Bassett Kairos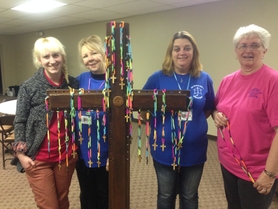 We had a great 4 days last month inside Mable Bassett Women's prison. Franky Bryant, Darlene McKinney, and Debbie joined 35 other ladies who journeyed 4 days with 35 inmates inside their world. I was allowed to transport all the food and materials in and out of the prison and developed a great relationship with the chaplain and many staff members as we delivered home cooked meals to the entire prison staff on Friday and Saturday. Sort of a blessing to them for all the extra work we put them through the 4 days we invade their territory. It was awesome to see so many ladies and gang members loving on each other at the closing ceremonies. These are some of the most anointed times we've ever experienced in ministry, when you see some of the hardest hearts, calloused over from many years of all kinds of abuses and sufferings, just melt away because 35 ladies cared enough to come spend 4 days of their lives with these ladies on a life journey. When you throw the denominational differences away, build a team of ladies from all walks of life, come together in Jesus' love, to open up and be real with ladies locked up from small time crimes to life without parole, loving each other in Jesus and building trust and family with girls who have never had family. Well it's the super invading the natural, the extra on the ordinary. Its Holy Spirit manifested transforming power….That's the best I can explain it… It's something words do little justice. 
Easter Fun With Kids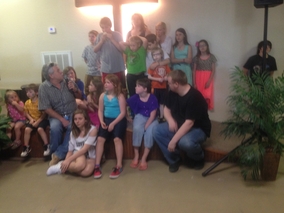 We had a great time with our kids teaching them the real reason for Easter. When asked what they could relate the egg to, the answer was new life, the new life of Jesus inside each of us! I loved that answer! One six year old said dogs  didn't live as long as humans because it doesn't take God as long to teach dogs to love and be kind as it does humans J!
Easter Fellowship Dinner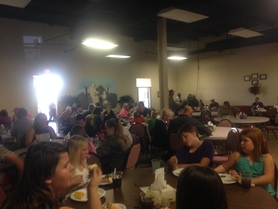 We've been on a new growth track the past couple years of building deeper relationships with our church family. We believe fellowship meals and holiday events are the perfect opportunity for this. We have several lake trips planned this summer, a couple camp outs / fishing / horse riding at the Neelds ranch, a trip to the mountains, and several other activates which will be announced or posted on the web site!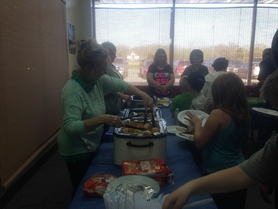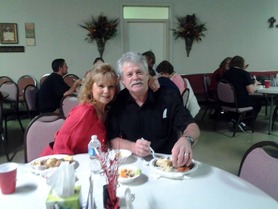 ————————————-
Valentines Dinner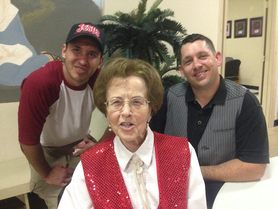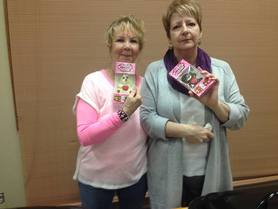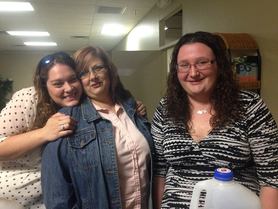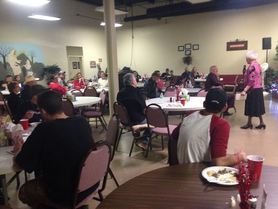 Castle House Women-Children Home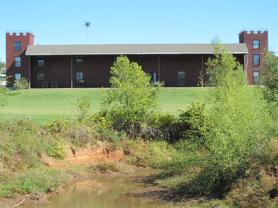 This home will be for women with children. We have such a crop of young ladies who have made some bad chooses and now have children to raise. The tragedy is they were never given an example because their mothers never knew how. You can't give something you don't have or where never given. We are hopeful to have this property secures soon. This home is 8000 sq. feet on 20 acres. Eventually we will build a new church building on the front of the property. The full story is on the web sitewww.deliveredfrommmeth.com under castle house or New 7 video story.  
If you do just a little research, it will be become evident to you that anyone that ever accomplished anything, did not know how they were going to do it. They only knew they were going to do it! Most good folks never allow themselves to do what they truly want, or become what's very possible, because they can't see how it's going to manifest / happen! Only dare to believe, with God all things are not only possible, but will come to pass if you don't lose heart. 
In Closing I'd like to leave you with this challenge to believe God for big things! Don't Limit Him with small thinking….He's a Kingdom Builder! 
God gave us the vision of the Castle House a couple years ago. Some people think if it doesn't' happen over night, or they can't see how we could ever pull this off, then they give up! If it's something from God, then believe me it's bigger than anything we could ever pull off. If it's something I can do without God, then I don't want any part of it. We have a big Father who wants to do big things if we will let Him…..Just dream big, believe bigger, and never doubt. It's already ours, we have already seen it with our spiritual eyes….
————————————————
For all audio Sermons by Pastor Dennis
Weekly Calendar
"New Online Donations"
Click on Our Web site: www.deliveredfrommeth.com
———————————–
Loving God-Loving People-Serving Both While Serving Our Community. Changing Our World One Heart at a Time
                                            Dennis & Debbie Hall Ministries 
The Recovery Church
Stephens Co. Jail Chaplain
P.O. Box 2117
Duncan, OK 73534
Fax:      580-786-4003
Phone   580-606-3784
If you would like to become a partner in this ministry, please make checks payable to The Recovery Church, P.O. Box 2117, Duncan, OK 73534 in order for them to be tax-deductible. Or try our new on-line donation by clicking on our web site atwww.deliveredfrommeth.com which logs your information to assure you will receive a tax credit!